Video Balun with Built in Power (300 Mtr)
Model: 180-VD-BALUN-09
• Transmit a color Video signal up to 300M / 1000Ft, and a full motion monochrome (B&W) video signal up to 500M / 1600Ft.
* Transmit Power signal up to 250M / 750Ft. (Please see Voltage Drop List).
• BNC male with RJ45 Jack; male and female 12V or 24V DC or AC plug on one device.
• Wave Filter Design, Anti-Static Design, Confirm to IEC 61000-4-2:1995 Standard
• Interference Rejection
• ABS Outer Shell
Video Input / Output BNC
Video Signal 1V p-p, 75 Ohms
Transmission Distance Video: Color 300M / 1000Ft, B&W 500M / 1600Ft
Power: 200M / 600Ft
Cable UTP / Twisted Pair CAT5 (24AWG)
Data Wire 2 Wire Bare Lead
Lighting Protection IKV (10/700us)
Power No Power Required
Max Current 1.5A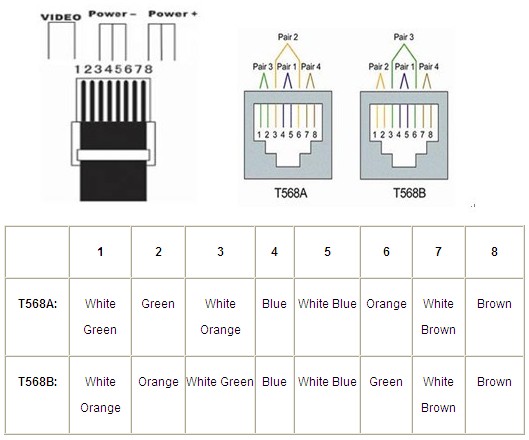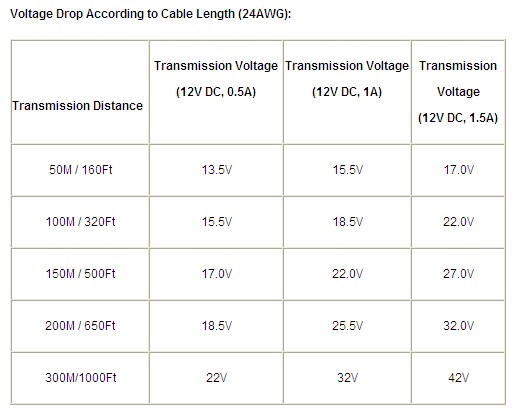 Transmission Distance

Transmission Voltage
(12V DC, 0.5A)

Transmission Voltage
(12V DC, 1A)

Transmission Voltage
(12V DC, 1.5A)

50M / 160Ft

13.5V

15.5V

17.0V

100M / 320Ft

15.5V

18.5V

22.0V

150M / 500Ft

17.0V

22.0V

27.0V

200M / 650Ft

18.5V

25.5V

32.0V

300M/1000Ft

22V

32V

42V


Transmission Distance

Transmission Voltage
(12V DC, 0.5A)

Transmission Voltage
(12V DC, 1A)

Transmission Voltage
(12V DC, 1.5A)

50M / 160Ft

13.5V

15.5V

17.0V

100M / 320Ft

15.5V

18.5V

22.0V

150M / 500Ft

17.0V

22.0V

27.0V

200M / 650Ft

18.5V

25.5V

32.0V

300M/1000Ft